They too became very careful. They would watch their parents closely, and whenever they felt that one of their parents was giving too many Fuzzies to others, they also began to object. They began to feel worried whenever they gave away too many Warm Fuzzies.
Even though they found a Warm Fuzzy every time they reached into their bag, they reached in less and less and became more and more stingy. Soon people began to notice the lack of Warm Fuzzies, and they began to feel less warm and less fuzzy. They began to shrivel up, and, occasionally, people would die from the lack of Warm Fuzzies.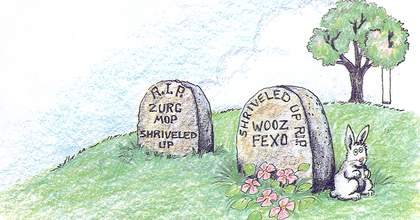 More and more people went to the witch to buy potions and salves even though they didn't seem to work.
Well, the situation was getting very serious indeed. The bad witch didn't really want the people to die (since dead people couldn't buy salves and potions) so a new plan was devised.
Everyone was given a bag that was very similar to the Fuzzy Bag except that this one was cold while the Fuzzy Bag was warm. Inside of the witch's bag were Cold Pricklies. These Cold Pricklies did not make people feel warm and fuzzy, but made them feel cold and prickly instead.